Memories
The following is a short story I wrote combining a story my mother wrote with my own. We recently hung my grandmother's hand stitched double wedding ring in our living room and seeing the quilt has brought back many wonderful memories.

Pictured is our granddaughter Ashlynn with her great-great-grandmother Verna's quilt: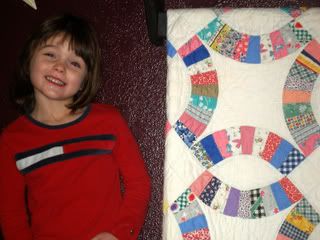 The hand stitching and work that went into this quilt just amazes me.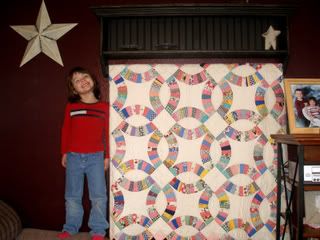 Grandfather's White House
The road is paved and stretches unhindered for several miles. A child's view is framed by the open window of our green Studebaker; the highway is lined with crested wheat grass and wildflowers that had been planted during a federal beautification project. This is a familiar road that will eventually end at my grandfather's ranch in southeastern Wyoming. The warm breeze that blows through the window opening bring some relief from the heat of the day as my brother and sisters sleep in the back seat. I scan the horizon ahead, anxious to see the dirt road that will take us to our grandparent's home.
My mother is in the driver's seat, and is as anxious as I am to arrive at the home where she grew up. She is a gifted vignettist; and her family is an appreciative audience. We never tire of hearing about her life on the ranch and the escapades of her youth. Our imaginations have vividly captured the essence of her life on the Wyoming prairie due in large part to her descriptive personal narratives in oral and written histories.
Daddy dreamed a dream several times which became a day dream that he told several times when I was a youngster. He dreamed that he owned a ranch with a big white house on it, red barns and a stream that ran through the meadow. He fully believed that some day that dream would actually come true. I think Mother thought it was just another one of Daddy's windy tales.
About the middle of the year of 1944, Daddy began negotiations with Fred, Bertha and Aline Klopfer to buy their place. It did not have a big white house, but it did have big barns that were in need of being painted red again, and a meadow with a stream running through it.
It was a nice day for January; a good day for moving. Uncle Harry helped move. Furniture was loaded onto a hay wagon and what couldn't be taken that way was loaded up in cars and moved. [ . . .] It wasn't much of a house really.
[. . .]Daddy found two houses in Van Tassel, Wyoming that were in excellent condition. The owners wanted to sell because Van Tassel was becoming a ghost town almost. Mother decided that we should buy the Larsen house—a WHITE HOUSE—and Daddy made arrangements with Mr. Simon to move it. A foundation was poured quite a distance from the barns and on June 26th, the house was set upon the foundation.
At last Daddy's dream came true. He had his ranch with the white house, the big red barns and the meadow with a stream running through it.
We turn right and leave the paved road and drive past the little country school where Mother had attended until she graduated from the eighth grade. In time her children would also attend this one room school house. To the east is the combination country store and post office. The pastures are surrounded by thin strands of sagging barbed wire that hang from splintery weathered fence posts. The fence line follows the road as far as the eye can see. The road is dusty, and the car shimmies occasionally because of the road's washboard surface as well known landmarks begin to appear. Everyone is awake now; our excitement fueled by the sighting of our grandparent's white house now visible on the horizon and the anticipation of our imminent arrival.
I was born on a stormy, winter night on January 27, 1929, somewhere in the country near Lusk, Wyoming. When I was about 2 months old, I got Pnuemonia and almost died.
When the Doctor delivered me, I am told, he was drunk, so therefore he spelled my name wrong. Consequently, I have spelled Dorothy with only one "o"—DORTHY. He did all right on the rest of the birth certificate however.
[. . .]One year Harold Blackmore who sometimes worked for Uncle Lawrence and a neighbor, Frank Valentine were helping with the harvest at Grandpa's. Velva Henderson, a friend of both Aunt Minnie's and Mother's helped with the harvest meal.
Everyone was standing around in the living room, waiting for the ladies to get the meal set on the table. I had the bright idea of going from one to another saying, "I know you, you're Uncle Harry, and you're Uncle Lawrence, and you're Uncle Wilmer, and you're Harold Blackmore," and then I came to Mr. Valentine. "I know you," I proudly exclaimed, "you're the Old buzzard."
Like a flash he was after me. I am sure he would have given me a spanking if he could have caught me, but I ran to the safety of Harold Blackmore's arms, and he protected me.
Mother said afterwards that Harold should have—after all, he was the one who started calling Mr. Valentine "the Old Buzzard" and everyone in the neighborhood had taken it up and called him that behind his back too.
That's one time I didn't get a spanking, but I am sure Mother must have wished the floor would open up and swallow her. Daddy never called him that again in front of me.

I sit at the desk in my bedroom as I read my Mom's stories, mesmerized by the intertwinement of our memories. These stories are all that remain of my birthright. My sense of time and place gradually return as I glance at the picture of Grandfather that hangs above my desk. It was taken when he was eighty years old just four days before he sat upon his bed and laid down, forever to sleep. I see his features superimposed on my mother's face and my own. It reminds me of the loss we felt when he passed away, and I am glad that Mom had been with him at a family reunion four days before he died. We undertook the journey back to this land that held our birthright as the family gathered to pay their last respects and settle the estate left to Grandfather's two daughters. Aunt Ruth used her half of the inheritance to buy Mom's half share of the ranch. At the time it seemed important to all of us that the ranch would remain in family ownership but years later the ranch was eventually sold to strangers after Aunt Ruth's husband passed away.
A day or two after the funeral we gathered at the white house that had been Grandfather's dream come true. I wandered through rooms that had changed very little since my childhood. The slick linoleum floors didn't seem to be as shiny as I remembered but I could recall the times as a child that I would take off my shoes-‑and in my stocking feet‑-would slide from one end of a room to the other. The small porch at the west end of the house was empty and no longer used to shelter Grandmother's colorful African violets. I looked through the porch windows past the red barns, past the pond and the stream that runs through the meadow. The fence line stretched into the distance; the barbed wire held in place by the endless row of marching posts. Time seemed to stand still as I stood there gazing into the distance. Somehow I knew that this would be the last time I would be in Grandpa's white house.
There's a special quality about the evenings in Wyoming in the summer that I will always remember. The clear, beautiful blue skies fade into gorgeous sunsets that spread clear across the sky. As the sun sets and dusk envelops the prairie, the toads start to sing and the crickets chirp.
[. . .]More and more stars pop out until the whole sky was dotted with an infinity of stars. We learned to find the Milky Way, and the big and little dipper. There is nothing that can compare to standing in the center of a farm yard looking up at God's vast universe at the millions of stars on a clear, beautiful night with the smell of clover permeating the air. The moon lights up the sky so brightly that there is no need for a flashlight.

I walk back through the house slowly savoring each bit of memory. The annual school picture of each grandchild sits upon the top of the large china hutch where Grandmother's best dishes are displayed. I don't recall that we ever used those dishes. Instead we would use her blue and white Currier and Ives dishes that had the pattern of "The Old Grist Mill". The multicolored braided rugs that Grandmother made from scraps of worn out clothing still cover their assigned positions in each room. I walk through the kitchen and outside to the small yard that Grandmother and her two young daughters had made many years ago by cutting and hauling sod from around the pond.
My feet follow a well worn path that leads through the pasture and out to the barns and chicken coop. I walk through each empty building, and climb up the ladders to each hay loft. I open every door and look into every room. I didn't realize until much later that I had been saying good-bye. My last stop was by the windmill and large circular cow trough that was still full of water . My Mother has always loved windmills.
I was 13. I had spent this special Saturday afternoon at St. Paul's Lutheran
Church in Catechism class. I remember the Pastor reading a verse about the finality
of death and the final abode of the soul. I was lying there in bed on a bright, star
studded night looking out of my bedroom window, contemplating our lesson. I was
really afraid of death, but I knew what I had learned in class about Heaven and
Hell were true, and that unless you believe in God, you could not get to Heaven.
Inside, I was quivering. Death was so final. I had hated thinking about what would
happen when I died.
As I looked out toward the windmill, an amazing thing happened. Suddenly,
I saw a vision of Christ just above the windmill. Instantly, the quivering stopped.
The fear and worry were gone and I knew that Christ had appeared to assure me
that if I believed in Him and lived my life for Him, that I need not fear death. I knew
that though death was the end of this life, it was also the beginning of a new life in
Heaven with my Savior.
A verse I learned as a young girl has stayed with me all my life, and has
been my inspiration in addition to that vision to live a Christian life.
Rev. 2:10 "Be thou faithful unto death, and I will give thee a Crown of Life". Someday, I will have that Crown of Life because I know that Christ gave me
assurance when I was 13 that He had the power and the authority to save me from
my sins and take me to Heaven to spend eternity with Him.
Thank you Jesus, for saving my soul that night so many years ago. Thank
you Lord for guiding me through this earthly journey. Thank you for my eternal home.
Grandfather's house no longer exists except in the oral stories that Mom has faithfully recorded and given to each of her children at Christmas time. It is through these stories that I have been able to remain connected to the past, and I have been able to introduce my children to the grandparents they never knew. I know that my Mother's search for spiritual answers began there, and I can still picture the bedroom where she had her vision. Many people wear their religiosity as a garment that is easily changed to suit the occasion but Mother's spirituality came from within. The fabric of family‑-history and memory, and the present combined‑-becomes a beautiful tapestry of color and texture, as the lighter threads of joy laid against the dark threads of sorrow reflect a time and place that now exists only in heart and memory.
Time marches on just like the splintery weathered fence posts did on that day. The posts didn't move and they didn't stop. When one post dropped out of sight; another appeared farther ahead. Memories, much like those old weathered fence posts, march on. As one memory drops behind, another rises to take its place. My grandchildren have never seen my Grandparents place and will never know the wonderful things that happened there. Instead, their memories will be of a small house in the middle of a small town where their memories rise up to replace the memories I have that have dropped out of sight.