A table in red. Customer that bought this at Moose Hill, also bought black and cream chairs to go with it.
This desk belonged to our pastor's wife. It was her brothers before it was hers as a young girl.
This is the b4 pic of the desk. Used the same hardware after spraying them black.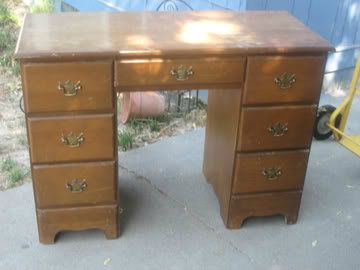 A cute little end table:
The next two pics are of a small end table. It has great storage under a half lid. I painted the top surface with chalkboard paint. A great piece for a small child to keep some art supplies or puzzle pieces, etc, and they can write with chalk on the top surface, easy to clean up: