A couple more pieces
Picked this coffee table up at an auction. When I went to the auction the next morning to pick up my purchases, I couldn't find this anywhere. There was another gentleman loading his purchases into a horse trailer. The trailer was pretty well loaded when I arrived and on a hunch, I asked the guy if he'd loaded my coffee table by mistake.
Checking with the auction house personnel and his own helpers, we determined that he probably had, but rather then unload everything he agreed to go unload and then bring back the missing table.
He did and now it is finished, just drying before being taken to the shop.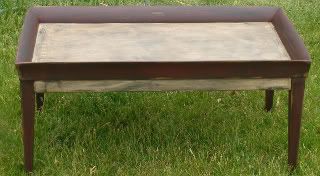 We attend
Heritage Alliance
and several of the youth are traveling to Mexico to help a Missions medical out reach. They were having a yard sale to help raise funds. I bought this small child's desk at the yard sale and now this is what it looks like.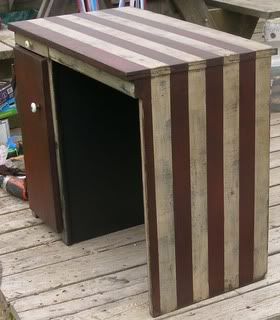 This next desk is one I saw on Craigslist but when I contacted the seller, learned it had sold an hour before. The next day I got an email from a client telling me she had a new project for me to tackle. I had this feeling that it was the desk I had seen on CL. Sure enough, so here is what it looks like now. She asked me to do it in green and black with some stars, so here is the before pic, I'll put the after pic up when I'm done.