new styles, new colors and more
The next two pieces are done in the Limade color that I did a custom desk in a few weeks ago.
I like the way the gingerbread brown looks paired with the black:
A little different technique for this sofa table that I bought at an estate sale, a double coat of the red and just the edges of all the wood is distressed.
Nancy found this vintage vanity at a yard sale. The original mirror was shot so I replaced that. Unfortunately, the picture isn't the best. I've found that anything with a mirror tends to be difficult to photograph.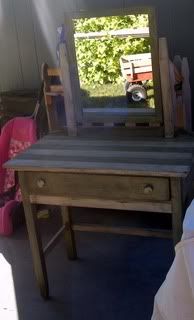 This coffee table and end table(s) were a custom job. When she came to pick these up, she put her "dibs" on the vintage vanity pictured above.