Fall into Beds
Looks like rain is heading our way, another dreary day from the looks of overcast skies and gray tones. Yet it still has a beauty of it's own when you look past the grayness. It reminds me of the gray tones in weathered wood and baskets much like this picture.
The bench was scavenged from a neighbor's trash pile. It was the perfect resting place for some baskets my brother has snagged for us over the past few years. You can see that the baskets on either end have been weathered while the three middle baskets were just added this year. I like the look. And the wooden chair is one that Nancy's grandfather made several years ago. He is no longer with us, but the chair serves as a reminder of his creativity and love of woodworking.
This next picture is my "Iris Nursery". My dad has always stated that flowers are a weed and "if you can't eat, it why plant it?" mentality. So it was with great surprise that he bought an iris floral collection from Breck's last year as a gift.
Many of the rhizomes didn't grow, so he got some replacements this spring. I've put them here and we'll see how they do next spring when I will evaluate the colors and decide where to work them into my flower beds. Speaking of beds, this one was made from the old frame of a waterbed.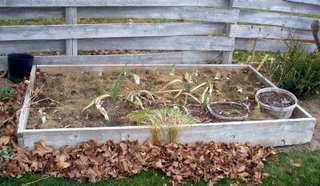 A couple of newer "waterbed" beds that are being prepared for next year's use. I never toss my grass clippings. The clippings are either used as mulch on existing beds or I layer the clippings with newspaper and organics such as peat moss and soil aids into the beds.
I actually grew a nice crop of Lemon Cucumbers in the far bed. You can see my neighbor's grapevines that she never does anything with. They grow clear up into the trees and I have to be sure to watch my side of the fence to keep them from covering my pines. The lemon cucumbers grew up the fence into the grapes so I'll plan to put them somewhere else next year.