Our Bah-Humbug soap get's some attention
Every year just before Christmas, at
Soapnuts
someone hosts the Bah-Humbug Swap. We participated in the 2007 Swap. There were 20 participants so each one sent in 20 items and in return received one of every other participants submissions.
In the Bah-Humbug swap, items ranged from soaps to nail care oils, to sun/dream catchers to christmas ornies.
Our submission was a short tale that went along with a soap in a burlap bag that we called Sac O'Mash. The soap included potato and was scented with anise essential oil.
Anne-Marie at
Brambleberry
blogged about our entry
here
.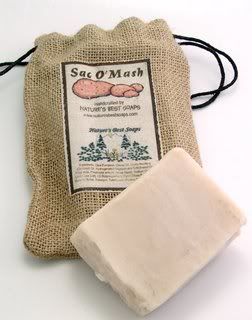 Thanks to Anne-Marie for the mention and also for allowing us to use the picture she took of our entry.