Talk about a hiatus......................
I knew it had been a while since last posting, but it just seemed to get easier and easier to not update the blog. It seemed that February through June was very hectic for us and I'm not the most committed person when it comes to any kind of a journal. My pastor sort of summed it up pretty well and I think this could probably be on my grave marker: "I'm a good starter but not always a good finisher!".
Anyway, I have been able to get back to my hobby of prim furniture. Here is a neat secretary I picked up at auction as is: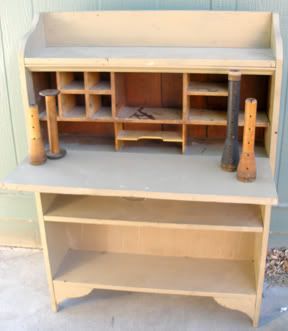 And here is my attempt to make it prim:
It probably would still be at our home if Nancy could have figured out where she would put it. So now it is in the shop and we'll see if anyone else likes it enough to buy it and give it a home.