Not all the animals are in cages.........
..........at the zoo!
You won't see many of the animals in these pictures. Although we did go around and look in the enclosures, the kids seemed to have the most fun on this trip doing the playground thing.
The kids still love going to the Boise Zoo though, and know where all the animals are. Last year we were thrilled when we found that the butterfly building was open. We were able to take the kids in to see dozens of varieties of butterfly that swirled in small groups around your head and legs and feet. They were disappointed that it wasn't yet open, but we assured them that there would be future Zoo trips in the near future.
Sissy is our resident animal fanatic. She absolutely adores cats, dogs and various furbies. Her daddy has a beagle named Chase, her mommy and stepdad have a chow cross (very sweet) and we used to have Taylor the Demon Siamese at Nana and Papa's. Unfortunately Taylor was very ancient and has passed over the Rainbow Bridge.
Here she is trying to woo a reluctant llama: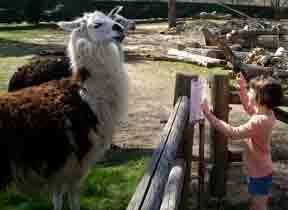 Jaedan liked being able to look eyeball to eyeball with this ground dwelling critter: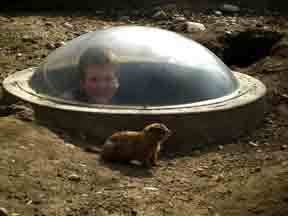 There are a number of kid friendly areas and one of the favorite is where the giraffe slide is. It was being repaired the last time we were there so the kids were thrilled when they saw that it was ready for them to use: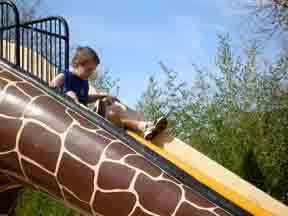 Uncle Josh had asked for a picture of the komodo dragon. We got one but there was also this lifelike replica so we thought he'd enjoy these two pictures as well.
Of course, who can resist the merry-go-round?
Don't forget the animals that you can get up close to: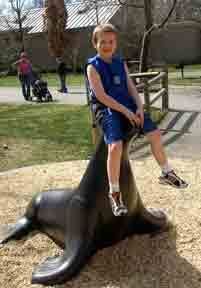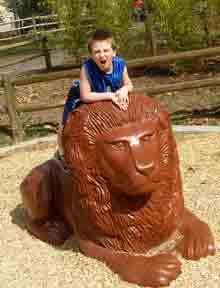 Finally, one last look at the spider monkeys. To see these, you have to climb some stairs, then walk alongside their enclosures, ending with a slide for the kids to return to the ground As you can see by how blurred the kids are due to their movement, you know that they race as fast as they can back up the stairs to go down the slide again.
It was with reluctance that they finally allowed themselves to be herded back to the car so that we could return home.
Maybe next time we'll be able to get some pictures of Nancy's side of the family, you know, the "holler" monkey and the little donkey.