Some more furniture pieces
Nancy and I both loved the clunky feet on this end table. I took this in to the shop at
Black Sheep Gallery
and it sold in just two days.
This piece just needed a little distressing and then I put a coat of dark walnut stain on it to give it an older look. You can't see it, but I attached a flat wooden prim star to the top and then painted the bowl to match and attached it on top the star.
I love going to auctions, ever since I was a kid. I was driving home when I saw an auction sign and stopped. After the auction was over, I borrowed my father in law's pickup to haul my treasures home. This piece had sold while I was gone to get the pickup. It had been covered with a lot of stuff and when I saw it, was regretful that I hadn't been around to bid on it.
I asked someone who had bought it and was pointed toward a man who had bid $1.00 for the piece. I asked him if he would sell it and he sold it to me for $4.00. After finishing it in the manner as shown, I sold it for $350.00.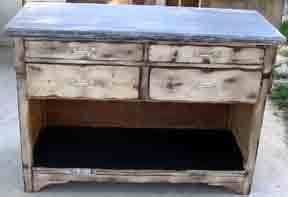 My brother knew someone who was just going to throw this sofa table away. My brother brought the piece to me and all that was wrong with it was that the drawer was missing all the tracking system to keep it aligned and working properly. I couldn't fabricate a tracking system for the drawer, so I just took the front end of the drawer off the drawer and glued and nailed it over the drawer opening to make it a permanent part of the table. I painted it black, then over painted it with antique burgundy. I thought it turned out nicely.