Facebook vs. Blog
Face book is so easy to do on a regular basis. For the blog I have to upload my photos to Photobucket, edit them and then paste the url to the blog. Makes it a longer process, especially with my dsl internet connection. So bare with me if you aren't seeing timely updates. I'd promise to do better, but unfortunately I don't think I'd carry through. It's the good inhttp://www.blogger.com/img/blank.giftentions vs. actual performance! But here is what I have to show today:
I like doing Americana. This is an Americana Chair. The blue used is actually called "Flag Blue".
This is a student's desk I picked up at a yard sale put on by the youth at the church I attend,
Heritage Alliance
. They were raising funds for a short term missions trip.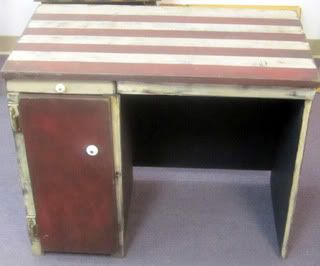 Taking drawers from dressers or desks that aren't able to be refurbished and made in to shadow box displays. The screen was given to me by a friend, that came from her grandfather's home.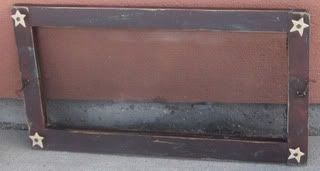 An Americana Chair Back can be used for hanging on the wall
A basic black night stand/end table.