More pieces
A wooden Vintage ironing board, in cream and black.
A sofa/entry table. This piece has $70 worth of smoked glass. I replaced the glass because the original glass was scratched and I thought the smoked glass looked so much better.
This is a Partners Desk. There are drawers on both sides because the partners would sit right directly across from each other, sharing the same desk. A friend had cut off the legs and put caster wheels on it, and it was an activity center for her children when they were young. I've just painted it cream and black, distressed and aged. But the thing I've added is that I painted the top with chalkboard paint so that kids can write directly on the surface with chalk and just wash it off.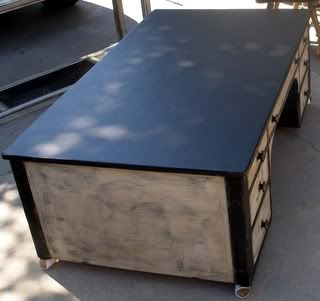 I thought I'd try a head board and see how that would work. This is for a twin, maybe a full size bed, done in gingerbread and cream
Almost forgot to include this piece, from the Pinstripe Collection, in Gingerbread and Cream, a small coffee table.