Soap Continuum - the Good, the Bad and the Very Ugly!
Do you want the good news first or the bad news? Personally, I've always liked hearing the good news first - sooooo:
The top of the Pearberry Salt Spa Bar in the mold: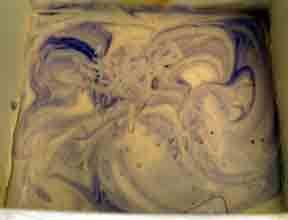 The first side of the mold pulled away: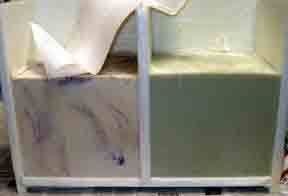 Now the remaining sides and middle piece are removed, leaving the two blocks of soap on the base:
The Pearberry block is moved over to the cutter. There is a cutting board that has grooves to match the first cutting pass through the block of soap to make loaves.
The cutter wire guide in place above the block of soap:
The loaves are removed and placed to the side so that the bar cutter and guide can be put in place: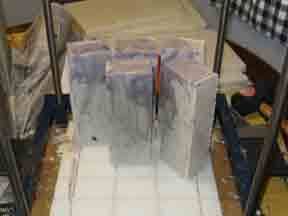 With the cutting board for the bars in place, the loaves are stacked atop one another and then the bar cutter is put in place just like the loaf cutter above.
The cutter halfway down the stack of loaves and you can see that we have uniform bars of soap.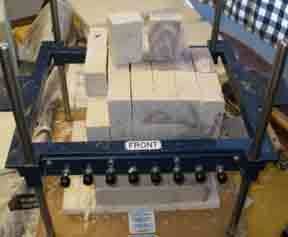 Bars of soap boxed and ready to be taken downstairs to be placed on the drying shelves.
My green didn't come through, looks more grey. But I have noticed that using the same level of colorant in the salt bars that are used in the non-salt bar made exactly the same yields a much different colored bar.
One of the ladies that came to the Idaho Gathering 2006 remarked that with the salt it made the soap look almost like granite.
Well, this was the Good news. My next post will show that even experienced soap makers will have failures. Nancy says it is to keep us from getting overconfident. "Who, me? Overconfident?" Surely not!