The Favorite Uncle
Every family has one. I was lucky as a kid because there was actually a whole bevy of great uncles (Uncle Harry, Uncle Wilmer, Uncle Butch).
Uncle Gerald is the uncle who takes all the kids fishing. And he is so busy untangling lines, baiting hooks, helping land the fish, etc that he hardly has time to do any fishing himself. He also takes the kids sledding and snowmobiling. Now what kind of kid doesn't appreciate an Uncle like that.
Here he is waiting to give the next sledder that little extra push to get them started.
Now he is talking to Nancy and Jason.
Now it is his turn down the hill. Hey, anyone, can you give a push? Anyone?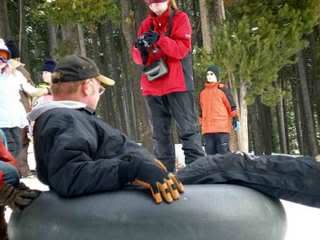 Gerald said that there were a lot of bumps to hit with your tail dragging the ground in the middle of the inner tube!
Getting the snowmobile ready to go.
Here we are at the top of the hill. It was so peaceful and quiet, and as you can see, so white.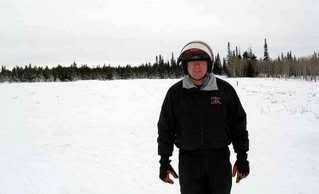 Now if we only had some favorite Aunts but if I posted the one great pic of my sister Anne (Gerald's wife), I would be in big trouble. I told her it is the only picture I have never had to use Photoshop to create a scary face. (luv you sis)