Who uses their dining table for a workspace?
For those who work from home or do crafts at home, you know what I mean. Eventually your crafting has a tendency to take over your whole home, much like the Tribbles did on Star Trek.
We had the first week of 2007 to sort of rest and relax but reorders began coming in the second week of January and have kept us fairly busy since.
Here is a partial order being prepped for an Insurance group in Boise. 200 one oz. soaps, made with potato and scented with blackberry sage.
The other side of the table is gathering the pieces and parts of another order which includes some butter cremes and hand lotions: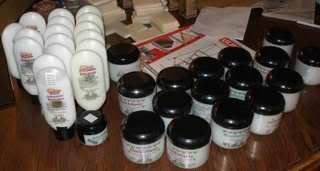 Whenever we host someone for a meal, it is a major effort to have to clean off everything on the table and find somewhere else to put it so that we can actually utilize our table for it's original purpose.
But we drop all this to go whenever we have opportunity to be with either of our children (and especially our grandchildren).
Daughter Jamie and her husband Jason called and asked us if we'd like to go with them for pizza and some bowling.
We first went to Gertie's Pizza and then to the Bowladrome. The Bowladrome must be one of the last places in Idaho to go smoke free! For those who don't smoke, when you walk into a smoke filled establishment it is quite noticable.
Here are some pictures to tell the story:
Pick out your bowling ball!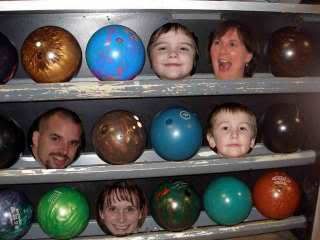 Jaedan putting on his shoes: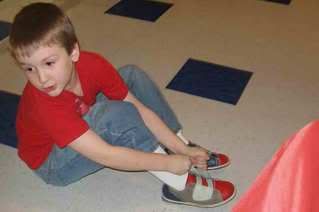 Both kids jumping for joy at hitting the pins (please ignore the gutter bumpers - they were very helpful to mom Jamie and Nana Nancy):
Here Nana Nancy is getting her pre-bowling-turn hand and shoulder rub down by Jaedan to ensure a good score:
And finally, what could be better then a good bowling outing unless you get a shoulder ride from Nana Nancy:
We should say that you probably shouldn't try this at home. Only after thorough rigorous training and conditioning should this be attempted!
We are certainly blessed that both of our children and our two grandchildren live close by. Although we would certainly support our children wherever they would go, we have enjoyed being able to continue to interact with them on a consistent and regular basis.