Through the eyes of a child..................
..........or>>> What happens when your grandson finds the digital camera and becomes an instant photographer!
When I took my first photography class at our local College of Southern Idaho, it was a blast getting each weekly assignment and going out into the community to take various shots. I remember that one of the assignments was to take artistically blurred shots of items in movement. We used timers to capture advancing headlights, water trickling over rocks and delayed timed shots of the moon or clouds moving through the darkened skies. We also were asked to take shots from non-traditional positions.
When I looked through the shots that Jaedan had taken, I thought he very well could have been following the instructions as given by my photography instructor a few years ago.
Can you tell what this is?
If you guessed the corner of one of Jaedan's eyes, you are correct. (If I hadn't had some of the following shots, I don't know that I would have been able to determine what it was.)
When a child looks up at an adult towering over them, don't you think this is sort of what they see?
or what they see when we go "nose to nose" with them as I tend to do when trying to get at eye level during a "papa-Jaedan talk".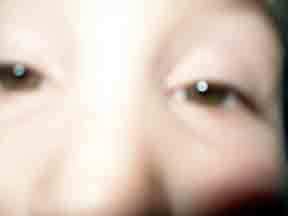 Wonder what he was thinking when he took a shot of his foot?
The next two pics are certainly from an unusual perspective. I'll show you the angle that Jaedan took the pictures, then show you the expected angle you would view these two spots when in our home.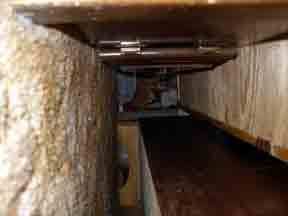 Do you feel disoriented? I did until I took the same pictures and set them right side up:
This is where Nana Nancy hangs her purse, on the inside door knob of our bedroom.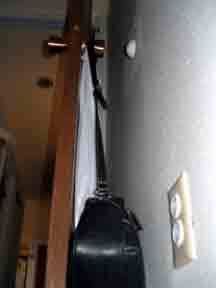 And this is where Taylor the cat tends to hide when grandchildren are visiting. It is at the foot of our waterbed and where Nancy's Hope Chest create a little tunnel.
Wouldn't it be great to see the world again through a child's eye? To be in constant wonder of what adults might see as mundane? The innocence of a child is truly one of God's constant gifts to adults, to often overlooked by parents busy with work and homemaking but recaptured by grandparents only if they take the time to try to see the world again through the eyes of a child.