Black Friday and tradition takes a back seat........
Today is Black Friday, the day after Thanksgiving when Nancy, her mother Jo Anne and our daughter Jamie would start hitting the stores by 6 am. I went with them once many years ago and vowed that I would rather put in overtime at work before I'd do that again, lol. Now Nancy's mother is no longer with us and Jamie is in Oregon with her fiance' and the grandkids, leaving Nancy with no shopping partner for Black Friday.
So we slept in today but eventually we did go in to town to see if we could pick up a shop and vac at Home Depot at Jamie's request. (sorry, all sold within the first hour of opening while we were still asleep)
Here is a picture of Josh with Grandpa Carl when we took Dad his Thanksgiving meal:
Here is Josh with his Grandma Dorthy (spelled with one "o" because the delivering doctor was drunk and left it off the birth certificate):
And I've also taken a picture of Dad's two furkids. These are the most well-fed cats I've ever seen. I told Dad he needed to get them a treadmill so they could workout!
This is Rascal. She is the mom of Rowdy and has been Dad's particular favorite for several years. Dad likes to have a dish of vanilla ice cream every night before he goes to bed. He takes a couple of scoops, pours some milk over it and eats about 3/4 of it, then lets Rascal finish off the bowl.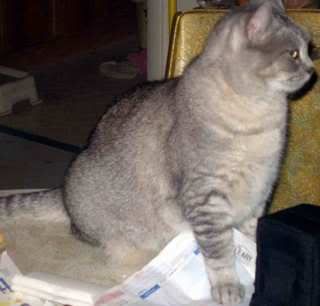 Rascal has some Siamese in her and that is why Rowdy has the coloration he does. He is still just a young cat. Both cats have the softest silkiest fur I've ever felt on a cat.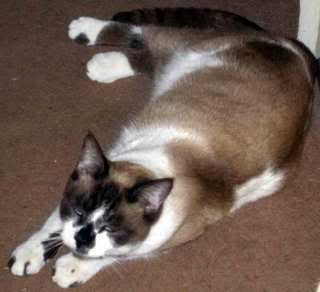 You can't tell by the picture, but Rowdy is good sized for a cat and has that Siamese cat personality (schizoid multiple personality disorder or something like that).
They both keep Dad company while brother Mike is at work during the day at Sun Valley where he works at the ski lifts.