How Time Flies When Having Fun!
Already five days into January and finally getting some time to get pics posted. We've been busy counting inventory and preparing for 2007 sales. It won't be much longer and there will be little more soaping adventures in amongst all the grandkid stories.
We took Jaedan up to an area called Diamondfield Jack's in the South Hills. There is a fun tubing hill for kids (and fun loving adults) as well as snowmobile trails all around. My sister's husband brought a couple of snowmobiles for use after the sledding.
It was a beautiful day. We beat the crowd and had the hill pretty much to ourselves for an hour or two. Here are some pictures of the birthday boy.
With Mommy Jamie:
With Uncle Josh:
For some reason when I look at this picture, it reminds me of a snow seal pup. What do you think?
Sledding can sure make you appreciate some hot chocolate with your sandwich while resting after several runs down the hill (and the walks back up):
Here Jaedan is posing on his momma's cousin Doug's snowmobile. He was excited to get to go for a ride with Great-Uncle Gerald on the larger snowmobile. When he got back I asked him how he liked the ride but he wasn't very enthusiastic. He wanted to be able to steer and control the machine himself and didn't quite understand why he had to just sit in front of Uncle Gerald.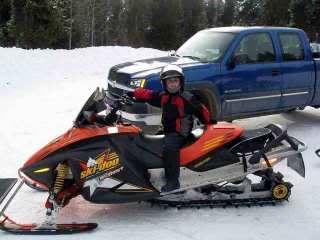 We spent about 5-6 hours up in the hills and enjoyed the day quite thoroughly. The day was beautiful and what could make it more fun then to spend it with family.
Look out, I took close to a hundred pictures. I'll post those later, you've got to see the "rescue" as Jason used a tube to pull Ashlynn up the snow bank out of the way of the sleds coming down the hill. And I got some great scenery shots when Gerald and I both took a snowmobile up to top of the South Hills range where it was so peaceful and calm.