All kinds of things going on!
Our daughter Jamie is in her 37th week now and was dilated at 3 cm when she went to see her doctor yesterday. This is the girl that had a doctor's appointment when she was pregnant with our grandson Jaedan, went on a shopping spree at Sears before she went to the doctors and then found out she was at 6 cm. The doctor told her to get over to the delivery room immediately. They had barely gotten her in and prepped when she basically just coughed a little and out shot our precious grandson. She didn't have any labor until at the final moments when she had to push. She was later told that she didn't have a biblical delivery, you know where it says there shall be pain in labor, lol. So we're anxiously awaiting the call! We do know this will be our third grandchild, a little girl and that she will be named Brinlee Anne.
I might add that her second delivery of our granddaughter Ashlynn wasn't so easy. She still had very little labor getting to the point of being dilated properly, but Ashlynn hung on to the umbilical cord with great tenacity and fought being expelled into the world for the longest time.
Here are the two showing how well they can get along:
I've now officially lost 80 pounds the old fashioned way - diet and exercise. I've gone down two shirt sizes and at least a pant size. (I carry all my weight between my neck and my waist. If my waist up matched my waist down, I'd be a skinny fellow.) Anyway, I am feeling much better, can do so much more and plan to be around another 30-50 years to see these grandkids grow up!
This is the most recent pic of myself I can find. Another 30-40 pounds off and I'll post the "after" pic.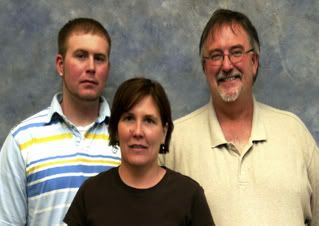 This was a fun picture. We had a bowling party for Jaedan's birthday and with a little imagination and Adobe Photoshop, the picture was made.