More of Brinlee
Jamie sent me some of the pictures that she and Jason took. Of course I have to share these with everyone!
Here she is after labor, hardly even perspiring!
However, birthing was tiresome for at least one person. Here she is getting a little beauty rest: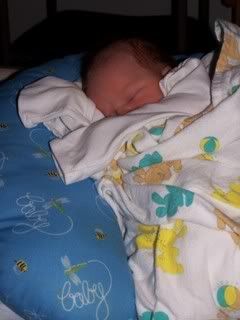 Now she is wide awake and awaiting all the adoration that family and friends are willing to give.
I told Nancy that this reminded me of church plays where the magi bring their gifts, lol. The kids are meeting Brinlee for the first time and have each brought a toy for her.
One last shot of her. Thanks for letting me be a proud Papa and show her off!