Owen had a 70th Birthday
October 14, 1938 was an auspicious date for Martha and Gordon Bennett (Nancy's paternal grandparents). Their first child, Owen, was born. He recently celebrated his 70th birthday with family. All of his children, grandchildren and great grandchildren were able to attend with the exception of one grandson and his family. Owen's Mother, Martha, was also in attendance.
Here is the birthday boy:
Grandmother Martha will be celebrating her 97th birthday April 4, 2009. Our granddaughter Ashlynn will celebrate her 6th on April 3, 2009. She lives with Owen and Owen's son Steve. At one point there was 5 generations of Bennetts living together but since Micah and his family bought a home there is now just the three generations sharing the large home. Martha is legally blind but she is just as independent as she ever was. Here is the great Matriarch of the family.
Here is Owen with his four kids (left to right):youngest brother Steve, Nancy, oldest brother Don, dad Owen and Tim who was born between Don and Nancy.
Here is Owen with all the grandkids (left to right): Amber, Payson, Bodie, Joshua (front), Johnnica, Erika, Owen, Jamie, Jeremiah, (not pictured: Micah).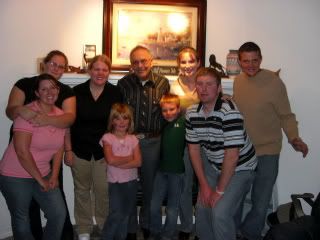 And Owen one more time, with the great grandchildren (left to right): Ashlynn, Nicki, Owen with Braxton on his lap, Chandler, Brinlee (front), Taylor, Elizabeth, Kayla, Jewelia, Jaedan, (not pictured: Zoe, Hadassah).