Vanilla Spuds and the Coloration
As we mostly know, vanilla or any fragrance with a vanilla component, will discolor soaps from a light tan to a dark fudgy brown. Friend and fellow Soapnuts member, Sue K. of
Oldtimer & Lily
, made the comment on
Soapnuts
recently that she thought that temps were also a factor in how the vanilla reacts and colorizes in soap.
I found that very interesting since we had just made a batch of our spud shaped soaps, scented only with Vanilla Select from
Brambleberry
. You can find Anne-Marie's listing and scent description
here
. It states that this fragrance discolors to a creamy dark tan. Vanilla Select, by the way, is an excellent fragrance on its own or as a blender. It is wonderful blended with Brambleberry's Sensuous Sandalwood. We also use it in a raspberry vanilla and a cherry vanilla blend for
soaps
.
We pour the soap at right around 140 degrees. The batch has been thoroughly stirred, including the fragrance, to a medium trace prior to pouring. Yet imagine our surprise when we unmolded the soaps and found that the at least half the spuds were two toned in color. You would think that since the ingredients had been thoroughly mixed, that the soaps would be a uniform color. Yet how do you explain the lack of brown in the bottom halves of some of the soap, other then the factor of temps?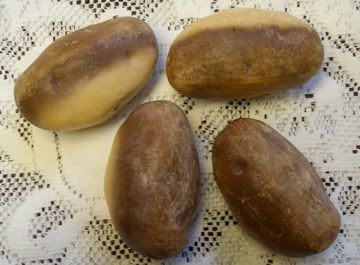 Soaping is always such an adventure!