Braxton's Baby Shower
As you may have guessed if you have followed our blog very much, Nancy and I are loving being grandparents. Our son Joshua and his girlfriend Michelle are going to present us with a grandson in just a few weeks. They have already decided that his name will be
Braxton
Taylor Porter. Click on Braxton and discover the origin and meaning of the name.
Daughter Jamie and her husband Jason hosted a baby shower for our side of the family and some of Josh's close friends. Michelle has already been to a shower hosted by her family and friends a few weeks earlier. Here is Jamie assisting a table of our next generation as we enjoy a potluck meal with the main dish of a wine marinated chicken breast and all the rest of some home made comfort food.
Jamie is much like her mother. She is organized, plans ahead, makes lists, makes list of lists to make, follows the lists, and generally is always ahead of the game at all times. She probably has her 2008 Christmas shopping done and is already pondering what she needs to watch for to give at Christmas in 2009. This is a picture of some of what I called and named the list that I kept as they opened each gift, "
The Booty Looty List"!
Jamie and her husband Jason, Nancy, and Joshua and Michelle have been going to Saturday yard sales and finding great buys on baby clothing and accessories. I don't think that this new little boy will lack for anything to wear for at least the first six months.
Josh and Michelle will make great parents and we are proud of the maturity they are showing, the preparation they are making and the support of their family and friends. We look forward to their eventual wedding (hint, hint).
Here is a shot of the general set up. For those of you who may be doing craft shows, isn't it nice to know that there are other uses for our show equipment, lol! Jamie and Jason had put in a paver patio but haven't yet been able to put up the shade roof. What a great large open space to have available to host events and we're so glad that Jamie loves to host and opens her home to all of us.
This is a picture of Joshua's (pictured on the right) best friend Elijah (on the left), whose family lives next to us. Sadly, we understand that with Elijah going off to Boise, Idaho, to finish college and his other siblings having gotten married and gone, that his dad Mark will probably be leaving as well. We will miss them for the great neighbors that they were and are grateful for their depth of friendship to our son. We however, probably won't miss Lucky, the miniature dachshund, to much because he was very vocal.
Here is Nancy's oldest brother Don and his granddaughter Zoe.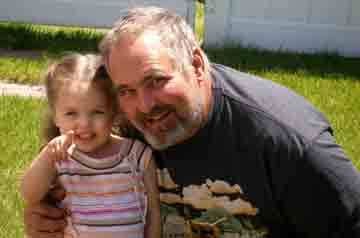 Zoe's sister Hadasah (Elizabeth).
Our great-niece Kayla and our niece Johnica's husband Anthony.
And of course, our newest little treasure at a little over three months old, Brinlee with dad Jason. We're hoping she hasn't inherited my family's tendency to retain white skin, lol, but are hoping that dad Jason will have contributed some tanning ability. But we are detecting a hint of red in her little fine head of hair and that may partly explain her little temper. Ha!