And finally, a found treasure!
I bought this piece for under $200 at an auction over a year ago. It is one of those pieces that I hesitated to put through my normal process. I had a feeling it was a valuable piece in its own right and therefore deserved to stay natural. I took this piece to a
professional restorer
. It wasn't cheap, costing $469.00 to restore, but the professional advised me to insure the piece for $2500.00 to $3000.00. I wished I'd taken some before pictures, because it was in pretty rough shape when I took it to the restorer. Here is what it looks like now though, and is one of my very favorite finds.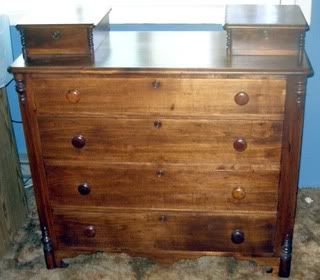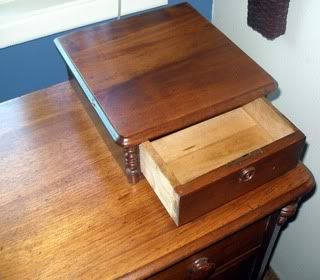 This picture shows the drawer pull has a threaded wooden dowel.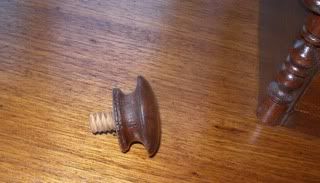 The restorer told me this piece was most likely of European origin, a studio piece custom made, all hand done, dovetailed joints, turned work on the corners. Made with European walnut as primary wood and birch as secondary wood. He said the piece was in excellent structural shape. Normally he has to re-glue these pieces, but there was only one small corner insert that he had to re-glue. Made in the 1860's to 1870's, a rare piece to find in the west.