Mirror, Dresser and Chest
The most recent pieces that have been taken to Black Sheep Gallery in Twin Falls.
Mirrors have done well for me, this one was just a plain white piece until some Ancient Burgundy and Vanilla Steam paint transformed it.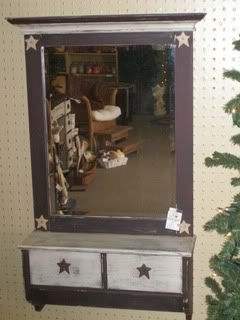 I've only done one other dresser and it has lots of character. But I decided to see if there would be a market for dressers in the area. This piece has some dings and dents but that just adds to its character. It is a solid piece with dovetail joints. Four drawers per side. Done in Cavern Moss Green, distressed and aged.
This next piece could be used for a toy box, a blanket chest or for other storage. Painted with Antique Burgundy and Vanilla Steam, distressed and aged. A checkerboard pattern on the top and a large star on the front panel. We like its chunky feet.
Yet to come, a Hoosier top piece, a ladies cosmetic desk and a unique wooden chair. Stay tuned.