More custom pieces
This is a piece that I saw listed on Craigslist and considered buying. But I procrastinated and a client called the next day to ask if she could drop off a piece for me to do. I recognized it the moment I saw it in her trunk. She had me finish it in basic black. I don't know what kind of wood it was, but the picture really looks worse then it did in real life.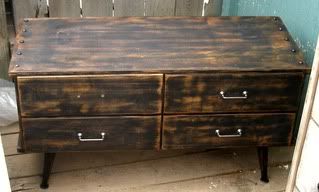 After I redid this client's table and chairs, she decided to bring the piece back and have me do it in the same red as the table and chairs but no cream. I think it turned out even better then the black. She just picked it up and seemed to be pleased with it.
These next two pieces are for another client and she said she has been getting a lot of compliments on the checkerboard design.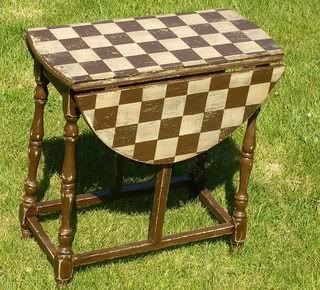 So now I have two custom pieces still on hand to work on. A larger drop leaf version of the little drop leaf table shown above and an antique/vintage possum belly table that I need to figure how to put back together. The client who brought the first piece pictured above also has another dresser she wants done in red, so in addition to the pieces I have in my shed to work on, I'll be plenty busy for some time.
But Nancy likes it that way, it keeps me off the streets and out of trouble!